Museum of Contemporary Art Cleveland
February 10, 2015
Location: Cleveland, OH
Project  Scope: Design calculations for the sloped curtain wall and sloped strip windows.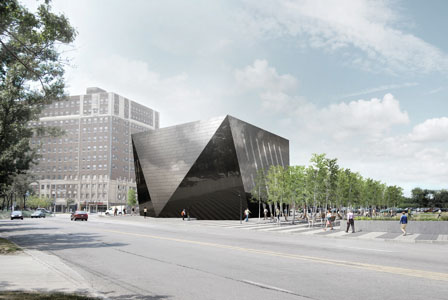 Details
Design calculations for the sloped curtain wall and sloped strip windows.
The new Museum of Contemporary Art Cleveland will be forty-four percent larger than the Museum's current, Leased facility, and will demonstrate that a museum expansion need not be large in scale to be ambitious in all respects. Devised for both environmental and fiscal sustainability. The design for the four-story building is at once technically inventive, visually stunning, and highly practical.
The project is designed by the internationally acclaimed firm Foreign Office Architects (FOA) and is being completed by Farshid Moussavi Architecture (FMA). Moussavi responded ingeniously to the project's roughly triangular site by designing a building with a hexagonal base that, with imperceptible changes in the shape of each story, rises to a square roof. Viewed from the exterior. The building will appear as an inventive massing of six geometric facets, some flat, others sloping at various angles. All coming together to create a powerful abstract form.
Clad primarily in mirror-finish black Rimex stainless steel, the façade of the new MOCA will reflect its urban surroundings. Changing in appearance with differences in light and weather. Window glazing will be tinted to assimilate with the reflective skin so that during the day the building will read as a unified volume. While at night interior lights will create a dynamic pattern on the dark surface.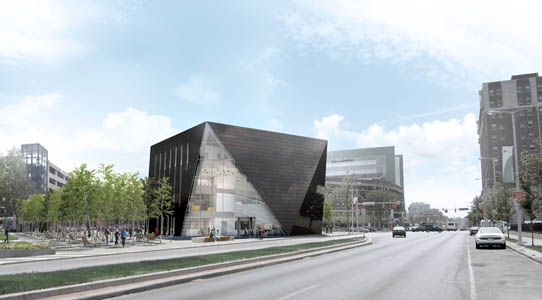 Also In the News
Museum Packs Architectural Thrills
So Contact
JEI Structural Engineering
11108 N. Oak Trafficway, Suite 208
Kansas City, Mo 64155
816-734-8345