Francis A. Gregory Library
February 10, 2015
Location: Washington, DC
Project Scope: Glass engineering of custom geometric curtain wall system.
Details
So the two-story library echoes the natural environment. The reflective geometric facade is a netowrk of quadrilateral openings, thus framing the views of the park. The curtain wall is designed as a thick structure oriented towards the street, also allowing visitors to sit within the apertures.
So porous and open, the new addition to the Columbia District's cultural scene in Washington DC chalenges the traditional library typology. Designed by Adjaye Associates, the Francis Gregory Library is conceived as an extension to the adjacent park. Its materials and lighting, along with the large canopy overhanging the entrance, welcome the public inside, also providing a smooth transition from the street.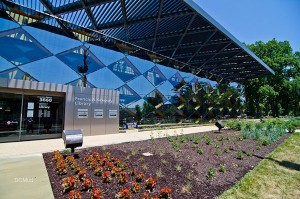 Also In The News
So Contact Us:
JEI Structural Engineering Office
11108 N. Oak Traffic Way, Suite 208
Kansas City, MO 64155
Phone & Fax
Ph 816-734-8345
Fx 816-734-7013
Info [at] JEIstructural.com
We also give free estimates!
So contact us today!