Location: Saint Louis, MO
Project Scope: St. Louis University High School Student Commons Renovation
Details
So the entire project will cost about $4.75 million and BSI, the same company that was the general contractor for the Danis Field House, will manage the construction.
Renovation of the Student Commons, the last major component of the Vision 2000 campus expansion plan, will include construction in the space currently occupied by the old gymnasium and the outlying areas to the east, including the athletic offices, the team meeting room, and the Student Council room.
Set to be completed in about six months, the project will feature a 15,000 square foot divisible open space used for everyday lunches, all-school Masses, class reunions, general functions, and also much more. In addition, the Berthold Avenue entrance from the turn-around will be redesigned to signify itself as the primary entrance into SLUH.
Thanks to excellent glazing work by Brother's Glass & Glazing.
Also In The News
Renovated Commons Takine Shape
Prep News, May 2011
Plans for Commons Renovation Underway
Prep News, May 2011
St. Louis University Website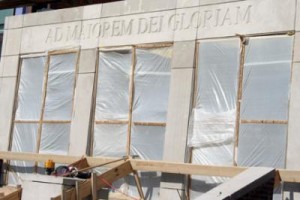 So Contact Us:
JEI Structural Engineering Office
11108 N. Oak Traffic Way, Suite 208
Kansas City, MO 64155
Phone & Fax
Ph 816-734-8345
Fx 816-734-7013
Info [at] JEIstructural.com
We also give free estimates!