Location: Lenexa, KS
Project Scope: Storefront, Glass Entry, Engineering Calculations
Date Completed: 2007
Details
So The U.S. Green Building Council (USGBC) has awarded a Leadership in Energy and Environmental Design (LEED®) Silver certification for the Applebee's Restaurant Support Center in Lenexa, Kansas. The building is certified for high performance design excellence under LEED New Construction (LEED-NC 2.2 rating program).
Located in Lenexa, Kan. the 178,000 square foot facility addresses the realization that their associates are key to Applebee's success. The design focuses on associate celebration and satisfaction, productivity, healthy environments and also innovation. In keeping with the sustainable design goals, the land and also building were developed to minimize negative environmental impact and reduce energy usage with design strategies. Such as building orientation, thermal enclosure and fenestration.
Also the building, construction uses a series of atriums and connecting wings to draw natural light into the workplace. The three atriums showcase the culinary process, house special functions such as associate dining, recognition spaces, a coffee bar, event space and offer breakout areas for training rooms. The atriums, along with the connective wings are oriented toward the landscape to take full advantage of views.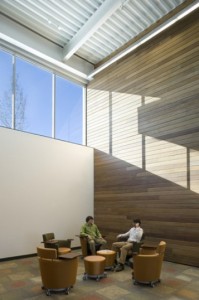 Also In The News
So Contact Us:
JEI Structural Engineering Office
11108 N. Oak Traffic Way, Suite 208
Kansas City, MO 64155
Phone & Fax
Ph 816-734-8345
Fx 816-734-7013
Info [at] JEIstructural.com
We also give free estimates!
So see our storefront designs.