Baluster Design Engineer & Glass Rail Detail
We provide Baluster Design Engineer services to glazing industry manufactures, installers and architects.  JEI works with all types of glass handrail engineering for commercial buildings.   Experts in point-supported glass, glass balustrade design, glass rail detail and glass handrail engineering.
Typical design requirements and common designs of point-supported glass guardrails is important to consider early on.    Call or Write today for a free quote.
For comments from LinkedIn on this video, click here for the blog.
Glass Railing Detail
Glass railing detail in today's modern world is growing in popularity and complexity.   The demands between Architectural aesthetics and engineering possibility are being stretched everyday.
Balustrade Design
The beauty of glass stair design is majestic.   The appearance of glass with the structural integrity of glass staircase design and detail is stunning.    Design codes may create an initial hurdle.   They are fragmented and sometime contain redundant and contradictory requirements for glass guards.  Plus, consistent engineering analysis has been lacking within the industry with many glazing contractors and architects misunderstanding the current and changing code requirements.   Usually a result of:
* guards treated as a product rather then an "engineered structure".
* lack of experience with glass as an engineered material.
* glass design software is not readily available in the United States.
At JEI Structural Engineering, we work to educate the industry on these issues.    Each glass rail design engineer is trained using SJ Mepla, a program that is specifically designed for glass structures.   See the video above for more information on Deflection Limits for Glass Rail & Glass Wind Screens.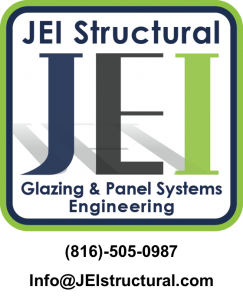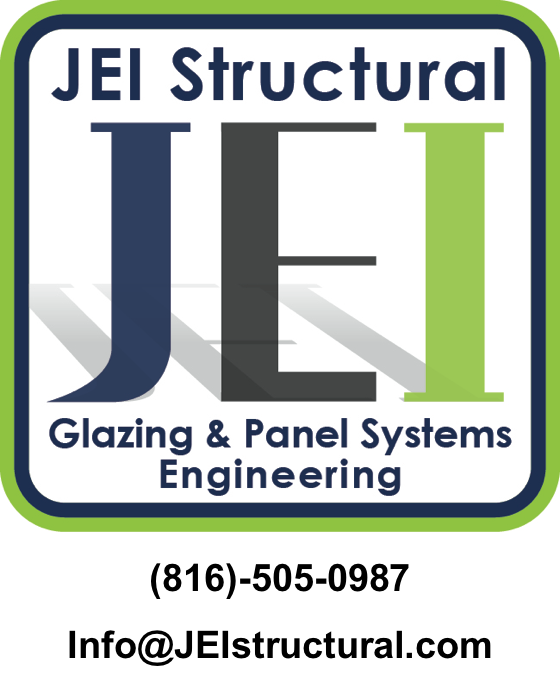 Glass Railing Design Engineering
Glass handrail engineering is growing in popularity and complexity.   Experienced engineers are rare.   Typical point-supported glass guards consist of point supports at the bottom of the glass.  How many supports and the dimension can vary.  Typical panel height is usually 54 inches.  Guards are required to be 42 inches in height.  Panels are often mounted to the sides of stairs and overlooks.   The fittings used are provided by several manufactures and vary.  Typically, a 2-inch to 3-inch disc rests on the glass surface and is supported by the building structure.  Top cap along with or in addition to handrail can be used to connect the panels.     Understanding the design loads associated with the configuration being used is critical.   As we travel, we see many examples of improper installation, resulting in cracks within the glass around the point supported holes.    With proper glass engineering support, this is avoidable.
Point-Supported Glass Guardrails
Additional issues that are considered with point-supported glass guardrails are:
* Allowable stress for guardrails specified in IBC section 2407
* Loads applied to guardrails are specified in IBC section 1607
* Building codes do not specify overall deflection limits for guardrails, only that the differential deflection between glass panels must be limited to the glass thickness.
* Minimum glass thickness considerations.
* Finite Element Analysis Program is preferred.   JEI uses SJ Mepla.
* Life Safety must be considered.  3/4 inch monolithic or laminated glass is okay, but 1/2 inch glass of any type is not.
Glass Staircase Design & Detail
Glass staircases and stairs with glass parts is a big challenge for fabricators, designers and engineers. Using special architectural glass, it is possible to get the required strength to hold the weight of itself and the people walking on it.   For more read Stepping Into The Stair Market.