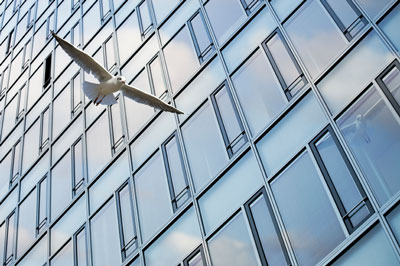 Many options exist today with bird safe glass that reduce bird fatalities.
Why do birds fly into the window?
Birds fly into windows because when they're looking at the window, they're seeing the reflection of sky or trees instead of a pane of glass. They think they're following a clear flight path.   Per the Human Society, "That mistake can be deadly; at least half of the birds who hit windows die from their injuries or because another animal killed them while they were stunned and couldn't escape or protect themselves."
What is bird safe glass?
Bird-safe glass is specially designed to make glass a visible obstacle to birds. It's possible to make glass visible to birds while still keeping it transparent enough for humans.
A variety of approaches, such as fritting, silk-screening, or ultraviolet coating, create a pattern that breaks up the reflectivity of the glass and alerts birds to its presence. More important than the technique used to create the pattern is its spacing: Testing has shown that the "2×4 rule" is most effective—meaning that the silk, coating or markings are added across the pane, spaced two inches apart horizontally, and four inches apart vertically. Research has shown that birds will not fly through spaces less than two inches high or 4 inches' wide
Count the Cost of Not Using Bird Safe Glass
Birders across the country are up in arms about the Minnesota Vikings' new stadium, which is likely to be a death trap for migratory birds that can't see glass and fly into it. The stadium design includes 200,000 square feet of glass, and the Minnesota Sports Facilities Authority (MSFA) has said they won't spend the extra $1.1 million to use bird-safe glass.
Headlines like "U.S. Bank Stadium is a bird killing machine" create bad press in Minneapolis, Mn.  Half-dozen or so bird-loving volunteers who, over an 11-week span beginning last August, made the walk of shame around U.S. Bank Stadium.
"Making laps around the $1 billion-plus, mostly-taxpayer funded coliseum began at 6 a.m. and lasted two hours. The volunteers represented three conservation groups: Audubon Chapter of Minneapolis, Minnesota Citizens for the Protection of Migratory Birds, and Friends of Roberts Bird Sanctuary.
Their mission was to confirm the worst: To see if the stadium, with its 200,000 square feet of clear and reflective glass, is so indistinguishable to birds that the creatures crash into it like something out of an Alfred Hitchcock movie."
Commercial building owners.  Resources for Bird Safe Glass
American Bird Conservancy Bird Friendly Building Designs: The American Bird Conservancy has produced the book Bird-Friendly Building Design to assist developers, architects, and building owners working with regulators and builders researching the application of voluntary guidelines or mandatory standards for buildings; or anyone simply looking for detailed information on the collisions issue and designing structures that minimize bird deaths.
USFWS Reducing Bird Collisions with Buildings and Building Glass Best Practices
At JEI Structural Engineering, we provide Fast * Friendly * Affordable curtain wall engineering with a team of glazing engineers.  We offer zoo design and facade design that considers structural integrity and environmental consciousness.